Pelletised activated carbon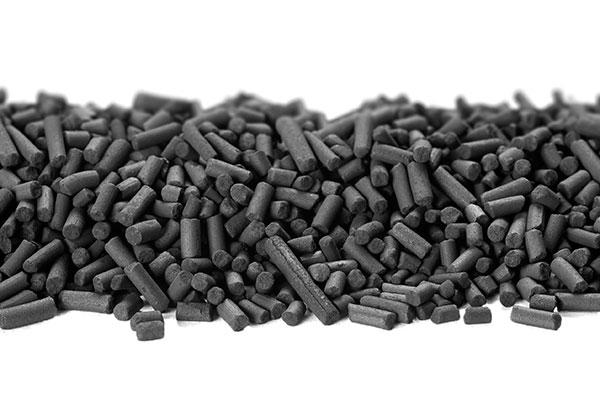 Pellets are manufactured with a diameter ranging from 1 to 4 mm, their shape matched to the envisaged application, residence time and pressure loss during filtration. The most common applications include treatment of gases, such as capture or recovery of solvents, removal of evaporated degreasing solutions (organochlorides), capture of smoke and other odours from the air, venting, capture and concentration of organic substances prior to catalytic combustion and removal of undesirable substances from gas or exhaust gases (siloxanes, hydrogen sulfide, dioxines, furans).
Pelletised activated carbon is used, among others, in stationary filters, adsorption cartridges and box filters through which media are pulled or pushed. The air treatment equipment is optimally designed to take into account the amount of substances removed by suction, pressure losses, residence time as well as the expected saturation of the sorbent saturation by the captured substances, and thereby the frequency of sorbent replacement or regeneration/desorption. The time of contact between the gas/liquid to be treated and the sorbent generally amounts to approximately one second. Saturated pelletised activated carbon can be regenerated and then re-used as newly activated carbon, where losses that occur during regeneration are replaced with newly activated carbon. Regeneration means major operating cost savings.
Send us your requirements so that we may propose a solution.
We offer other products beyond the standard product portfolio listed here. Contact us for more information.
Resorbent – MAC6 D40
Description
Pelletised activated carbon made from hard coal by high-temperature steam activation.
Parameters
Value [%]
Pellet diameter
4
mm
Specific surface area (BET N2)
Min. 1 000
m2/g

Iodine value (ASTM D4607)

Min. 1 000
mg/g

Bulk density (ASTM D2854)

450-500
kg/m3

Carbon tetrachloride adsorption (ASTM D3467)

Min. 60
%

Ash (ASTM D2866)

Max. 12
%

Moisture (ASTM D2867)

Max. 3
%

Hardness (ASTM D3802)

Min. 95
%
Packaging:
BigBag po 500 kg; bag 20 kg
Resorbent – MAC8 D40
Description
Pelletised activated carbon made from hard coal by high-temperature steam activation.
Parameters
Value [%]
Pellet diameter
4
mm
Specific surface area (BET N2)
Min. 1 100
m2/g

Iodine value (ASTM D4607)

Min. 1 100
mg/g

Bulk density (ASTM D2854)

420-480
kg/m3

Carbon tetrachloride adsorption (ASTM D3467)

Min. 80
%

Ash (ASTM D2866)

Max. 12
%

Moisture (ASTM D2867)

Max. 3
%

Hardness (ASTM D3802)

Min. 95
%
Packaging:
BigBag po 500 kg; bag 20 kg