Coke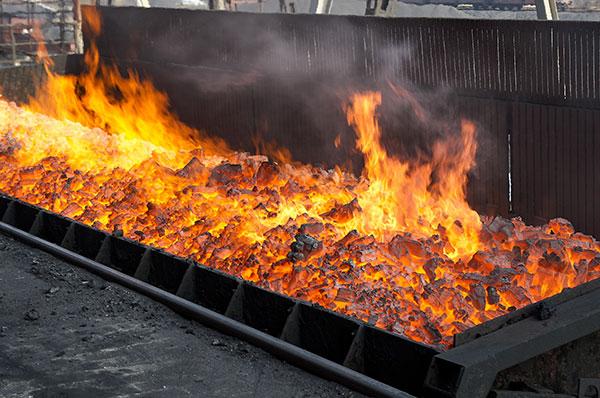 Coke is a hard, porous carbon material made primarily from hard cokeable coal in coke ovens. The process is called carbonisation and consists of structurally transforming the input material under high temperatures in the absence of air with the subsequent removal of volatile substances. A by-product of coke production is coke oven gas, which is usually subject to further processing. One of the products of such processing is hard coal tar, which can be used to produce pitch coke.
Coke has a high calorific value of 25-30 MJ/kg and a low volatile substance content. As a solid fuel, coke is much more environmentally friendly than coal and produces less dust and fewer by-products when burned.
Application:
Coke is widely used in metallurgy and in the chemical and food industries, and it is also an important fuel for heating. Coke is integral to the production of pig and cast irons in cupola ovens, where it is used not just as a fuel but also as a reducing agent. Coke is also integral to sugar production in the sugar industry.
Basic types:
Metallurgical coke
Chiefly used in cast iron production and as a fuel in the production of insulating materials, foundry coke has a higher grain size and hardness.
| | |
| --- | --- |
| Fuel type | Grain size [mm] |
| Foundry coke I | >100 |
| Foundry coke II | 70-130 |
| Foundry coke III | 60-90 |
Used as a reducing agent and a heat source in the production of pig iron in blast furnaces.
| | |
| --- | --- |
| Fuel type | Grain size [mm] |
| Blast furnace coke | >80 |
| Blast furnace coke | 40-90 |
| Blast furnace coke | 25-90 |
TIndustrial coke
Industrial coke has many applications, primarily as a fuel in the generation of heat and hot water in households, heating plants and industrial facilities. Applied in a broad range of chemical technology applications, industrial coke can also be used as a sorbent and in metal smithing applications.
| | |
| --- | --- |
| Fuel type | Grain size [mm] |
| Nutshell 1 | 40-60 |
| Nutshell 2 | 20-40 |
| Pea | 10-20 |
| Dust | 0-10 |