Calcined anthracite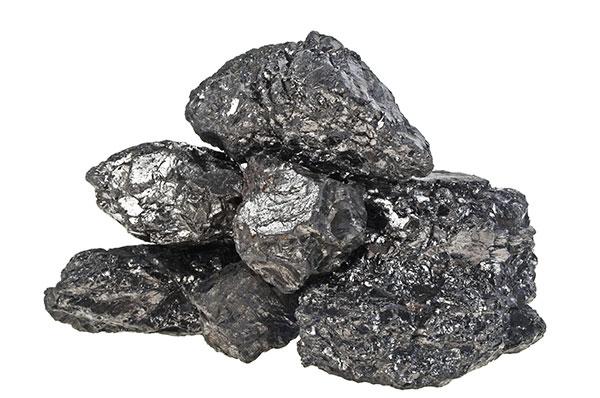 Calcined anthracite is raw anthracite that has been heat-treated. The process, known as calcination, takes place at high temperatures in electric or gas calcination furnaces.
Gas-calcined anthracite is produced by annealing in a horizontal gas furnace at a temperature of around 1280 °C. Gas-calcined anthracite (GCA) is made from anthracite coal, known for its low ash, sulphur and volatile substance content.
Application:
Calcined anthracite is frequently used as a recarburiser in ladle and blast furnaces in steel mills, and in producing carbon blocks and tamping paste. It is also used to replace calcined oil coke in specific applications in the production of ductile and grey irons.
Write to us with your requirements!
Resorbent KA 01
Parameters
Value [%]
Carbon
Cfix
Min. 95,10
Ø 95,90
Ash
Ad
Max. 4,50
Ø 3,70
Volatile substances
Vdaf
Max. 0,65
Ø 0,45
Sulphur
Sd
Max. 0,18
Ø 0,12
Nitrogen
Nd
Max. 0,70
Ø 0,60
Hydrogen
Hd
Max. 0,28
Ø 0,25
Water
Wtr
Max. 0,50
Ø 0,20
Grain size
1-3 ; 3-5 ; 5-12 [mm]
Packaging:
Bags: 20; 25 kg ; Big Bag: 1t; loose delivery
Resorbent KA 02
Parameters
Value [%]
Carbon
Cfix
Min. 95,00
Ø 95,50
Ash
Ad
Max. 4,70
Ø 3,80
Volatile substances
Vdaf
Max. 0,80
Ø 0,60
Sulphur
Sd
Max. 0,80
Ø 0,65
Nitrogen
Nd
Max. 0,70
Ø 0,60
Hydrogen
Hd
Max. 0,60
Ø 0,45
Water
Wtr
Max. 0,50
Ø 0,40
Grain size
1-3 ; 3-5 ; 5-12 [mm]
Packaging:
Bags: 20; 25 kg ; Big Bag: 1t; loose delivery